Lately, I have found myself passing on a lot of projects where the author seems to have missed a key ingredient to the story. Namely, the conflict! Oh sure, there are a lot of little complications and roadblocks along the way, much like bad traffic on the way to work, but in terms of an awesome conflict that keeps the hero and heroine apart? NADA!
Let's begin today with understanding what I have been seeing. These are complications. I think I have mentioned this before here on the blog so forgive me if you have heard the analogy before. Remember the sitcom, THREE'S COMPANY? For 30 minutes, we saw nothing but complications in that plot line. Most of the episodes revolved around someone not hearing correctly a conversation and then trying to do things within the show. For example, Jack hears Chrissy making a comment about getting pregnant and he immediately thinks she is. You get the idea. Now, here is the thing about complications. These are easy solutions. Someone simply has to ask someone else and the problem is solved.
Writers tend to use the same thing in their stories. I often find that really, in the end, there is nothing that is truly keeping the characters apart from one another. Oh sure, they say they can't get involved but the reasoning is really weak. "I can't start a relationship because she's just a tourist in the town." Really? Is that all?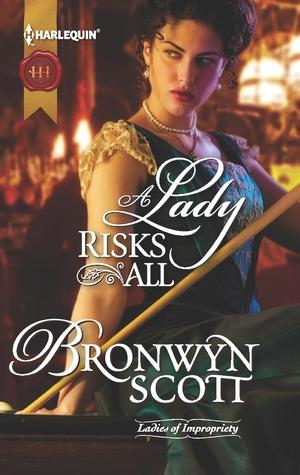 In the case of a conflict, we have to really see something that is going to prevent the two of them getting together. In this case, we're talking full Romeo and Juliet level. The two of them could never get together because of the rival families. As we saw, getting together meant people were going to die. What we have to see in a real conflict is that something can be lost for one or both of the characters. There has to be something at stake here for the characters.
In the latest Bronwyn Scott novel Mercedes and Greer have a lot to lose should they continue this relationship. If she continues to work with Greer to win this billiards tournament, she is likely going to lose the respect of her father, which she really wanted to gain. Should she enter the tournament and lose Greer? Greer stands to lose money and the woman he has fallen for if they continue.
Now the issue here to make a conflict great is how the author finds a way to get that solution and not make it sound corny. In other words, we need to see the author set up the situation where we think it is totally impossible and then, at the last minute, throw in a scenario that makes the reader think, "Dang, I should have seen that one coming."
Let me give you another author who does just this. Take a look at another Greyhaus author, Helen Lacey. DATE WITH DESTINY (or for that matter all of her books) does just that. You will frequently find
reviews about Helen's books that make comments that she will throw you a spin that you simply didn't see coming.
But here is the twist. The solution cannot come across as being an act of the gods. In other words, there can't be a sudden supernatural solution that is thrown in that hasn't been set up earlier in the story. For example, the characters are completely destitute. All money is gone. The family structure is completely gone. And then, mysteriously they are at a grocery store and the character finds an unused Lottery ticket, scratches it and they become instant millionaires. I'll be very honest. You do this and you lose the reader. We feel cheated. Why? Because we wanted to see the characters do this on their own. We wanted to see them find their way to success and not have this random act of fate "fix it for them."
So, go out and review what you have? Conflict or Complication?