First of all, I do have to say this book has been on my To Be Read pile for a while and now that I have read it, I really do regret not getting to it sooner. You have heard me talk about this over and over again on this blog and it was great to read someone who does just this!
Ann Roth writes for Harlequin American Romance and if you haven't given this author a chance, you need to immediately. Why am I so excited? As I said, this author has perfectly nailed the idea of keeping it simple and writing a fantastic story.
The book I am raving about right now is
MONTANA DOCTOR.
I can promise you, I will be heading directly out to get more of her writing as soon as I am done here. In any case, here is the blurb about the book:
To Mark Engle, it's simple. There's Los Angeles—success, money, excitement—and there's Montana. So when he finds himself stuck playing small-town M.D., Mark is less than pleased. The only appeal is clinic receptionist Stacy Andrews, a big-city escapee in love with Saddlers Prairie and its neighbors-are-family feel. Too bad rural and close-knit are exactly what Mark's looking to evade.

Stacy knows Mark's type too well. A career-driven man like that would never put a tiny community—much less a wife and family—first. So why is she hoping he'll stay? No one can overlook the chemistry between the pair, and soon the whole town conspires to push them together. But it'll take more than matchmaking for Mark to change his life plan, even if his heart truly belongs in Montana.
So what makes this book so simple and yet a great read? The conflict is summed up right here in the blurb. He wants to leave small town and move to the big city. She likes the small town feel and yet they fall for each other simply through their conversations with each other.
I am not going to spoil anything here but neither of them are carrying around a huge amount of baggage. Their conflict is simply and we are watching real people in real situations.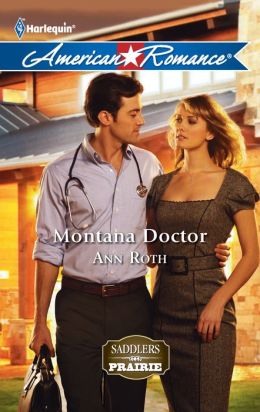 Now we add int he fact that she has perfectly gotten the Harlequin American voice down. This isn't just about small towns, but it is examining all of those classic American ideas: small town feel, comfort of neighbors, the conflict of money vs. happiness.
Look, I am not one who will go on and on about books like this but when you have something good, then you have to scream about it.
Way to go, Ann! You have a new follower! I am hoping all of you will check out her writing as well!
Buy it here!